I am sitting in the foyer of the Hotel Les Armandiers, Trafout, at the base of the Ante Atlas Mountains, "borrowing" their wifi! as you do…
We have just spent 24 hours high in the mountains, in a traditional Berber village. What an experience! Definitely a highlight to date. Even though the accommodation and toilette were most basic (think yoga mats and starting blocks!), the people and climbing a wee small part of the mountains more than compensated. Our guide, Mohamed, is also Berber and as lovely as all we've met, so its been delightful and a privilege. We love Morocco.
One lady who stood out today as the entrepreneurial mother kind was Hatudo. She took us on an extended tour of the village, invited us for mint tea, and drew henna creations on our arms, mostly with baby on breast! All for approx $20 AUD per person, equivalent to a months wages in local currency Dirham. And she, and the little ones, are also gorgeous.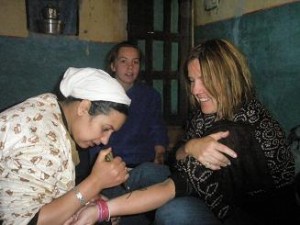 We love the Berber spirit and their generally happy and optimistic outlook on life. All credit to them we say. We have much to appreciate, and learn, through their perspective.
Or as Jimmy Buffet sings about…
"Changing Latitudes Changes Attitudes" (thanks Karsten)
Amen!
ps. Not much shopping to be had so far, and not without trying! The kaftans are not pushing my buttons either unfortunately. Maybe we'll have better luck in Marrakech… hope so.
pps. FYI… I'm receiving text messages. I can send apparently, but not receive. If you're expecting a response, hopefully it will happen once we return to Barcelona in a few days.