Cruising in a dug out canoe (mokoro) is rather special. The "poler" on the back does all the work (thank goodness as I couldn't be confident about not falling in if it was DIY). You just lounge in pairs and watch the reads and lily's go by as they take you to a camping spot in the middle of goodness knows where! fabulous.
The 2 days in the Okavango Delta was delightful. Going on a walking safari and getting rather close to zebra and wildebeest was a highlight, as was shading under an enormous baobab tree when the heavens opened up. Flying over the Delta was pretty special too.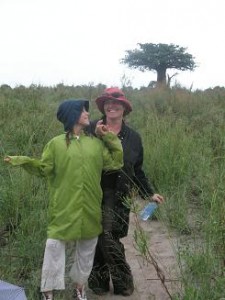 We've now left the safari truck and attempting to return to "normal" in Cape Town. It will take a while to get the inground dirt out I'm sure. I did think the sandal lines on my feet could have been dirt as opposed to a tan line, but they've not watched off yet so I wasn't as grubby as I thought…
now to shopping and loitering with intent!