ho ho ho
I'm currently sitting in a patissiere in Arusha writing this quick update. All is going fabulously well, and we may have peaked in the animal viewing stakes as we have seen the lot already (in terms of the big 5, cheetah, leopard, rhino, hoppo and the piece de resistance… 3 lionesses with 11 cubs and the very same mothers killing not one but two wildebeasts for supper!!)… incredible.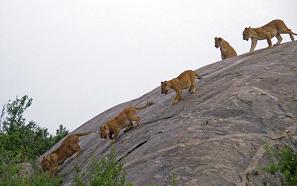 If you want to see entrepreneurial mothers at their best, you cannot go past the women folk in these African countries. They make things out of absolutely nothing… quite amazing really. Prime examples are some of the jewellery we will bring home, bottle top bags, plastic bag mats and coca cola can Christmas trees… very impressive.
We are off to Zanzibar now. Can't wait for that one as, from memory, its a fabulous little place.
Trust all is well with you.
feel free to leave us comments below
ho ho ho