We walked into the foyer of the Mount Nelson and knew we were in the right place!
The Mount Nelson; the Raffles Hotel Singapore, the Victoria Falls Hotel Zimbabwe equivalent of Southern Africa. Rather Salubrious I must say.
Tea on the Terrace, with a buffet to die for… savoury and sweet. Cucumber sandwiches; smoked salmon sandwiches; mini tarts and quiches; crumbed mushrooms;… and then onto the petite fours, rows and rows of them; tortes and cheesecakes; cakes and scones; and of course, cheese and crackers.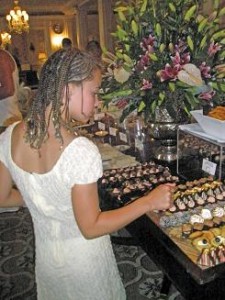 The priceless comment of the day was when the little one says in a rather loud'ish voice "this cheesecake is not as good as grandma's!", and you know what, she is right.
A rather pleasant way to spend our last day in CapeTown. Now its repacking time (oh ooohhh) as we are off to Strand to spend 4 days lounging on the beach and generally winding down and energising up for the long haul home.
ah such is life!