What an amazing place Victoria Falls is…
truly a wonder of the world.
Picture this… a couple of Australians standing on the edge, getting really wet from the spray, arms in air, screaming like banchees… yes that would have been us! and we even managed to get other visitors to join us along the way. We certainly laughed a lot. There were also reflective moments as well…
The little ones and I then rode an African elephant named Jack, the large dominant male. Call us lucky, I know! Bucketed rain on us the whole time though, but then we've got used to that.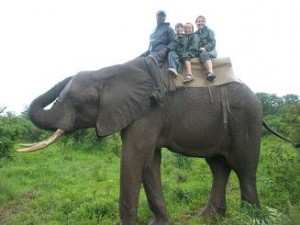 What is it with us and precipitiation you may ask?… hhmmm no idea but it's certainly been a feature of this adventure.
About Zimbabwe, it really is sad as I remember it being a beautiful and vibrant place (back in 1996) that we could not appreciate this time around. We came into Victoria Falls via Zambia and then almost straight out again via Botswana. No experiencing the place at all really.
But we did manage to the billionaires for the day! how you may ask?
Given that a $1USD bought $1.8 million Zim$, it didn't take much to convert you into billionaire status…
first time for everything!
lunch alone cost us $42,000,000.00… go figure!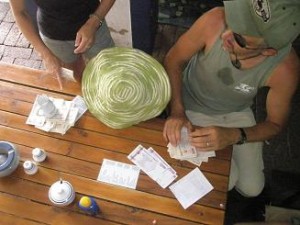 We're off to the Okavango Delta tomorrow. And this where will see the back of our safari truck adventures. Yes, finally we will be getting off the beast, out of ant infested tents, and off damp mats… fabulous! And then onto Cape Town for some much awaited R&R, cleansing, pampering and shopping… which I'm afraid have been sadly lacking!

Its OK, we'll be back to normal when we get home… promise!!